Dr. Maganty
SPECIALTY
Gastroenterology
CERTIFICATIONS
American Board of Gastroenterology
FELLOWSHIPS
University of Kentucky – Gastroenterology fellowship
Lexington, KY
University of Miami – Hepatology fellowship
Miami, FL
RESIDENCY
Southern Illinois University
Springfield, IL
MEDICAL SCHOOL
Andhra Medical College
Andhra Pradesh, India
HOSPITAL
Missouri Baptist Medical Center
INSURANCES ACCEPTED
Medicare, Medicaid, major commercial insurances accepted. Call office to confirm.
ARTICLES PUBLISHED/INTERVIEWS
National Esophageal Cancer Awareness
Cameron lesions: unusual cause of gastrointestinal bleeding and anemia. – Maganty, K., Smith, R. L.
Lump in scrotum and abnormal chest X-ray: what is the link?- Maganty, K., Janowski, W. C., Rull, G. M.
Electronic clinical challenges and images in GI. Diagnosis: Gastroduodenal artery pseudoaneurysm complicating as obscure gastrointestinal bleeding and acute liver failure. – Maganty, K., Farrell, R. L.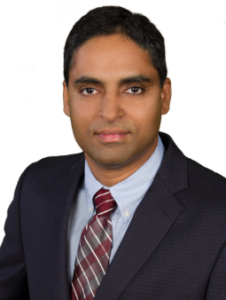 Dr Maganty is a board certified Gastroenterologist practicing in the greater St Louis metro. He is a solo self-employed physician who strives to deliver the best health care results. When you call and make an appointment, you will see him directly. He will listen to you carefully, review all the pertinent data and suggest the best treatment plan that is right to you. He believes in personalized gastrointestinal health care and gives upmost importance to preventive health and high quality care. More importantly, he treats you well as he would like his family member treated when they see a doctor.
His primary interest is in preventive medicine, which is why he emphasizes colon cancer prevention. His areas of interest include colon cancer screening, acid reflux (GERD), Barretts esophagus, liver diseases and pancreaticobiliary disorders.
In his spare time, Dr. Maganty enjoys playing golf, watching sports and spending time outdoors with his children.